Kindly supplied by Eric Whitehouse ( who is still gigging)
Eric (extreme right) is pictured here at a recent photocall (2007) with George Hamilton IV, Stan Laundon and tony Goodacre
And here with the late great and irrepressible Mike Kemp (second from left below)
More info on the Blue caps kindly supplied by Trevor Davis (pictured here with Mick Kemp)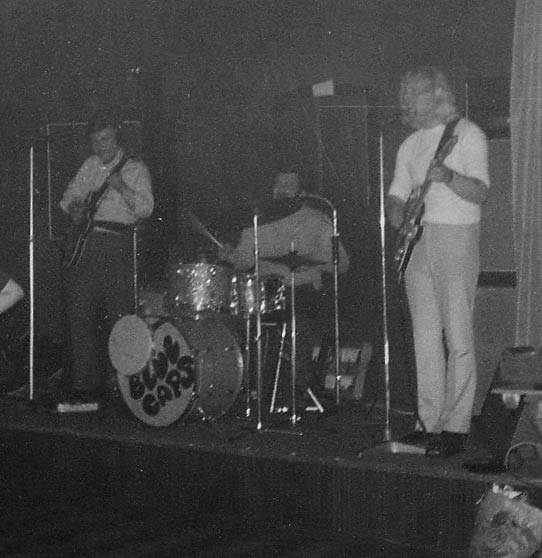 Here is a photo of Mick Kemp the drummer with the Blue Caps and me at the Yorkshire Dragoon in Malton Cleveland The Blue Caps went through many changes in its life - Mike Kemp was always at the helm driving the band . I joined when Jim was the lead guitar and Robbie was the
singer and I must admit I cant remember their surnames or the dates, but Montego Bay and Alright now were among the songs we played. I was with them for about 2 years and enjoyed most of it .I was newly married and getting home late didn't always go down well, but I used to get a
The Panthers and Crawdaddies were spot on. Mike sadly died about 5 years ago - in 2002 I think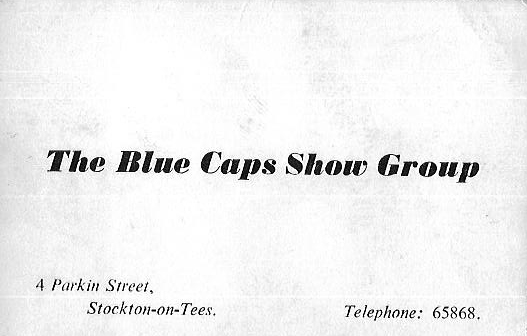 Mad Mike Kemp's Blue Caps at Saltburn, showing a young Peter Saint (extreme right with the mandolin) following his departure from Dell and the Falcons. I asked Eric why they were wearing such strange garb and he replied that they wanted to look different - or maybe it was something they'd smoked.
Either way he could not even remember having the pic taken
Eric has provided some more great pics.
On the right is Eric Robinson (Ezza) who replaced Ian on lead guitar
This is the old Stillington Club in 1964. After the booking the lads got a letter from the club saying that they had dislodged a neighbour's chimney pot and would be expected to pay for it. Mick Kemp impolitely refused.
Two pics of the Maison de Danse showing the Blue Caps and the Escorts on stage aound 1962.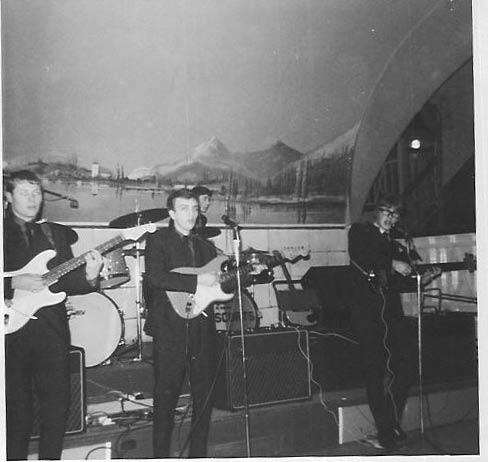 Outside the Prince of Wales Theatre April 1966 with Linda (Mick Kemp's sister)
Eric doing his Gracie Field's impression (don't ask)
Eric went on to appear in many acts including the Bart and Pluto Bennett comedy duo and the Texas Moon Country Duo