I received this email recently from David Ash who was a former member of the group
My name is Dave Ash and I was browsing through the internet and have just came across your site by chance, Vintagesixtieslive.co.uk and was fascinated by the groups and nostalgia from the sixties.
Although I live in Spain now and am now 61 this year i still reminisce of times gone by.
I spotted a group called The Foot Tappers and for a moment thought it was the group I was in until I opened it up and recalled there was another group down in the Teeside area around that time with the same name.
We had a group by the same name but used the name as "The Foottappers" as a continued word.
We played all over the North East in those days like many other bands at dance halls, youth clubs, and social clubs etc along with the night clubs around the north east area,
We done the city hall on two occasions in a show called "Stars of The North" and also entered the Tyneside Summer Exhibition in 1963 and went on to take the 1st place after winning the heats to qualify for the final
The line up of the group was myself, Dave Ash, (lead & Rhythm) John Bunford (bass) Ronnie Topping (drums) Derrick Ash (rhythm) later replaced by Brian Curran (Lead & Rhthmn) and Dennis Mcintosh ( Vocals)
We were together for about 3 year before the group eventually broke up and I teamed up with the lead singer as a duo for the next 16 years called "The Ember Bros"
I have recently tried to contact various members of the band and found Brian Curran through Friends Re-united although I haven't yet had contact from the bass player John although I got his address and sent him a letter from Spain and am still eagerly awaiting a reply. I still keep in contact with Dennis the singer and have totally lost touch with the drummer.
I get back to England from time to time and would love it if when I am next over could pay a visit to one of your open nights and get acquainted with some stories of the years gone by
I still do a bit of strutting around with the guitar and do one or two gigs over here with friends at private parties in the local pubs etc
Don't know what you need to join the site but would be interested to learn how to get on and maybe forward more info if required.
I have enclosed a few photos of the early sixties of the group and hope it may be of interest .and hope
I look forward to your reply

Yours sincerely

David Ash ( This was our business card from the past and a cutting from the evening chronicle
When we won the 1963 Pop Group Tyneside Summer Exhibition )

Line up from lft- rht: Derrick Ash, John Bunford,David Ash, and Ronnie Topping on drums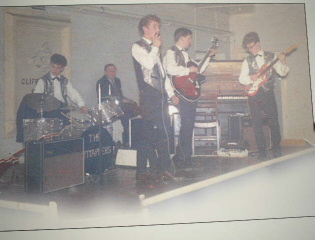 Below: left to right- DaveAsh,Ronnie Topping,John Bunford, Dennis Mcintosh, Derrick Ash